From what kind of musical background are you coming from and how did you land into this scene?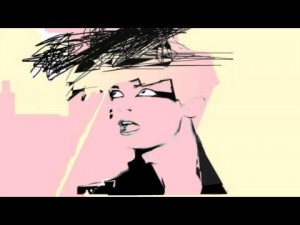 By mistake? Out of protest? I used to do techno music up until 2008. At one point, I just got bored with the scene, for many reasons, but one being that I found it's really depressing, because it's all about party, party, party. It got a bit uninteresting, is that normal?
So after one particular night I just got an old tape, I can't remember if it was The Joy Division or The Sisters of Mercy on a cassette and I listened to that and I was like wow this is great!
Then we had a band called "Fleisch am Frühstück" (Meat for Breakfast), which was kind of a punk band and when this band ended I was left with lots of unfinished tracks, which then started turning into new wave things after I did an anti Nouvelle Vague cover version of Tanze Samba Mit Mir, as a protest against Nouvelle Vague, that is an awful French band which is destroying New Wave who used to turn them into elevator music.
Back then I think you were still living in Switzerland up until around 2007 I believe?
Up until 2011.
Were you pretty much alone to play this type of music on the local scene?
Ha ha, it's about the same now isn't? Yeah, completely!
There was another guy that had a night that was called Disorder, who was occasionally playing New Wave kind of stuff but it was more mainstream things but I didn't even know there was a scene for that kind of music when I started.
It's a MySpace thing. It's completely a MySpace thing. I just did that track, this anti Nouvelle Vague track, then I did a few others and I just threw them on MySpace out of fun, and I started adding people as friends, who's hairstyles and haircuts were like ha ha ha ha, then suddenly one guy contacted me and was like "hey, I really like your music do you want to play at my festival?", and this was my first gig, and it turned out I played with, I remember, I was opening up for Neon and Absolute Body Control. This was this other band called Velvet Condom and may be something else that I forgot but yeah it was quite a start…