Gertrud Stein Interview
From what kind of musical background are you coming from and how did you land into this scene?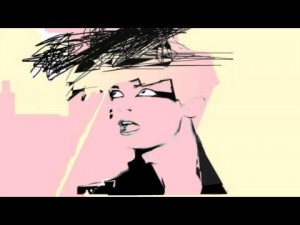 By mistake? Out of protest? I used to do techno music up until 2008. At one point, I just got bored with the scene, for many reasons, but one being that I found it's really depressing, because it's all about party, party, party. It got a bit uninteresting, is that normal?
So after one particular night I just got an old tape, I can't remember if it was The Joy Division or The Sisters of Mercy on a cassette and I listened to that and I was like wow this is great!
Then we had a band called "Fleisch am Frühstück" (Meat for Breakfast), which was kind of a punk band and when this band ended I was left with lots of unfinished tracks, which then started turning into new wave things after I did an anti Nouvelle Vague cover version of Tanze Samba Mit Mir, as a protest against Nouvelle Vague, that is an awful French band which is destroying New Wave who used to turn them into elevator music.
Back then I think you were still living in Switzerland up until around 2007 I believe?
Up until 2011.
Were you pretty much alone to play this type of music on the local scene?
Ha ha, it's about the same now isn't? Yeah, completely!
There was another guy that had a night that was called Disorder, who was occasionally playing New Wave kind of stuff but it was more mainstream things but I didn't even know there was a scene for that kind of music when I started.
It's a MySpace thing. It's completely a MySpace thing. I just did that track, this anti Nouvelle Vague track, then I did a few others and I just threw them on MySpace out of fun, and I started adding people as friends, who's hairstyles and haircuts were like ha ha ha ha, then suddenly one guy contacted me and was like "hey, I really like your music do you want to play at my festival?", and this was my first gig, and it turned out I played with, I remember, I was opening up for Neon and Absolute Body Control. This was this other band called Velvet Condom and may be something else that I forgot but yeah it was quite a start…
And this fest was in Switzerland?
No that was in Germany. I only played in Switzerland twice, at L'Usine and Le Cabinet, in Geneva. The other one in Lausanne was not really a gig because I kind of left mid way…
I think you are planning to self-release your upcoming EP, Moonlandings.
Yes I got it here for you but you said you didn't want any vinyl…
What motivated you to do so?
I don't know it just seemed like the logical thing to do, not that I don't like labels but I just like having no process under control. I also saw this a little bit as a challenge, it's like I'm gonna press all of this, I'm actually going to get rid of it or I'm gonna have to recycle it into roof tiles or fruit bowls, lamp shades or whatever.
I just got them here actually. They just arrived this morning!
Oh you actually got them already! Sorry I didn't know they just arrived this morning. Nice!
The weird thing about it, is that the back label changes its colour depending on what light you're on, because it was meant to be vaguely purple, but when I look at it at home it's brown and now I look at it again and it's purple. You know what I mean? It's kind of pinkish now. It's not meant to be pink. It should be purple but at home it's brown so it was a bit disappointing and I've got 500 of them and there brown.
But you don't want it do you?
Yes of course I do!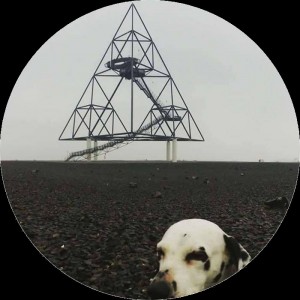 What is the meaning of the opening track title, 2m2?
It's about living in the confines of your own safe-space and not getting over yourself and getting out there and trying new things.
OK but is it an abbreviation?
2 square meters.
Ah OK I get it now, thank you!
I was surprised to discover a slow track, Sad Song, when pretty much everything you did before is more upbeat. What gave you the blues to write this song?
It was just a very low evening. I kind of came home a bit drunk and I just sat in the studio and it just came out like that. It was a time I was listening a lot to a track by Molly Nelson, a song that won't be played on the radio, which was going on in my head. It's got a little bit of this vibe, it was very low dime this time of my life, so yeah, it's about being pretty desperate but still showing to believe that that's something beyond that point where you're like, argh you know, you can't think this can get much lower but there must be something else, but you're not quite sure what. Yeah, there must be something and this is quite what it's about.
When searching for Gertrud Stein online I came across the other Gertrude Stein (the one with the 'e') from the 19th century.
Yeah the one with the 'e', the fake one.
Were you influenced by this writer or she just happened to be a homonym?
No it's actually a very funny story actually I was listening to an album by Jeff & Jane Hudson, the ones who do that song Los Alomos. They have an album on which they have a song that's called Gertrud Stein, and I just though the name kicked ass, because living back in Switzerland Gertrud is about the most unpopular name that you can think of.
Everyone in Geneva hate anything German to start with, and Gertrud is like yeah, it's like the most unsexy, unfashionable most horrible name that anyone can think of.
The same as Brutus for guys I would guess. Very good choice then!
Probably worst, and it's only afterwards that I vaguely checked was she was writing and I quite liked it, I was kind of wondering if she was going to be some horrible writer, writing about horrible things, but no I can live with that.
You've being singing in German and English but you also speak a perfect French with this lovely Swiss accent. How come you never wrote any song in French?
I don't know this just doesn't work. No I've got the start of one line of lyrics in French, so I even surprised myself, to the melody of Victoria by The Fall. It's in my head for 3 years and I was kind of wondering if I was finally going to sing something in French or not. May be, who knows?
I really like Plastic Spoon from your first album but I was always puzzled by the chorus line: "I'm making love with a plastic spoon". Are you really so kinky?
It's about the Drop Dead festival in Portugal where they had this band Kitchen & The Plastic Spoon, an 80's band from Sweden. It's a bit long ago now and I'm not quite sure if I remember this correctly but I think I had something going with on with one of the guys of Kitchen & The Plastic Spoon, and I think on a different night I may have something going on with another guy of Kitchen & The Plastic Spoon.
That's where it's coming from. Not with a plastic spoon. I'm not quite sure how practical that would be…
If aliens landed in front of you and, in exchange for anything you desire, offered you any position on their planet what would you want?
A Delorean, that one that travels in time as well!
But what if you wanted any position on their planet? What kind of job would you do for that on their planet?
I'd be quite happy in my Delorean I have to say. I'd travel back in the 80's and I'd go see lot of bands I missed back in the day and that kind of stuff…
You have been very active in London organizing gigs and the Achtung Achtung events. What have been driving you to stay so active?
I'm radio-active. I can't sit down. That's the thing it's pathological. Also nobody plays the music I like so somebody's got to do it. That's why the Achtung Achtung party is called the music nobody like, because nobody's got a clue of the music I'm playing there.
What are your future projects and where do you see yourself in 20 years?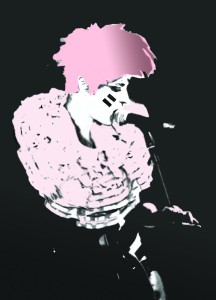 Oh my god this is like a job interview! Do you know how old I'm gonna be in 20 years? I'm probably gonna be in a wheelchair! Deaf for sure, I won't be able to hear anything. That's already a problem now.
I don't know. I want to live in a castle in the woods in a big house with a recording studio that takes up the whole floor with lots of synths everywhere, you know, filled with gear and with a venue in the basement. In the summer I'd do a festival in the garden and there be like deers and pheasants. I'd be wild life meet minimal wave festival.
Would you come?
Of course! I hope I'll live long enough to see that!
Do you have any gigs or tour coming up anytime soon?
There's Nathan's party on the 5th of January with QUAL, Synapscape and Thorofon. May be I'm gonna have a little record release party at the same time.
And then there will be the BIM Fest in Saint-Niklaas, Belgium.
To end up would you like to spread any word or add anything else?
I'm gonna add something in French. I already did that in another interview but I think it's an important message to the world which says: "Le persil et la coriande ont beaux se ressembler, dans le Papet Veaudois la coriandre ça le fait moyen."