Noi Kabat Interview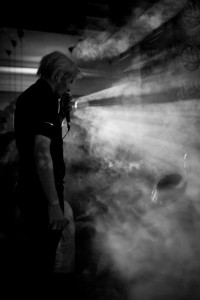 Can you tell us about your current line up and how did you guys started playing together?
Jonas: Well there have been a few developments only quite recently, unexpected, just prior to the show we did in Helsinki at Deadly Beat.
Dee: Owen left the band unexpectedly and for personal reasons and so myself and Jonas decided to honour the date in Finland and see how we stood with live as we have quite a few good commitments booked this year already. The show was well received and apart from the promoters I don't think anybody could tell we were missing a member and had to scramble together a new show where half of the songs were written three days before.
Jonas: But be assured, whatever course it takes, myself and Dee and very much looking forward to the forth coming live dates and producing new material for the next series of vinyl releases. I see no reason why certain circumstances should affect our development and output as a band. I've been very encouraged by the quality of writing and the progression of new material.
Dee: That's a point, a musician I talked to recently thought of me as just 'the singer', but I have learnt various instruments since an early age thanks to my conducter/horn soloist grandfather whom I owe a great debt to. I studied music exclusively at college and University. Just because I don't want to play on stage doesn't mean I couldn't. Somehow I feel like it would take away something from the performance. I want to be free out there in the wilds.
Jonas: Regards how we met, it was basically through the cold/minimal/Industrial/80's synth scene in and around East London, club nights like Divine Incest, Brave Exhibitions, Endurance, Reeperbahn. I guess we were brought together for a mutual love of this genre and the eventual desire to put a band together which was something that seemed to be lacking from the scene.
In which other music projects have been involved before and what drove you to form Noi Kabat?
Jonas: I've been playing in bands in various guises since I was about 15. A good way to learn is just join a band. Its different now with the introduction of digital technology and what you can achieve in home recording and performance with computers and audio software. At the time I was just starting to learn, it was more about getting hold of an instrument, drums or electric guitar or whatever and playing in rehearsal rooms, the physical element, not creating music on a computer. Noi Kabat is certainly the most enjoyable and creatively fulfilling project I've been involved in. Just prior to that I'd given up playing for 10 years or so, just to concentrate on my artistic career. I went back to full time study which culminated in a post graduate in printmaking at the Royal College of Art. It wasn't until I met Dee and started playing in Noi that I realised how much I enjoyed playing music again.
It was only with this band that I started to explore the potential of electronic drums. Before that I'd always used acoustic. I bought myself a Simmons SDS 1000 on eBay and then run with it. I've since developed my set up, now using a Heart Dynamics Acupad kit with an MPC 1000 Sampler plus some Simmons add ons. I'm enjoying exploring the possibilities electronic drums can offer. There's a huge amount of versatility they can give in terms of textural and melodic elements.
Dee: I had essentially been attempting to form bands for years until this happened. When you live in London though I think every drummer has about 5 bands on the go and can never give you the full attention you desire. Luckily I had been dj'ing and known Jonas when I must have found out he could drum so we had a session round mine I think guitar and a heavily circuit bent Yamaha DD-6 I have. This form actually started with me and Dorian Cox ex-Long Blondes and Owen was to produce it, for whatever reason though it ended up being us three. Would still have liked to hear what me and Dorian could have produced though. I'm sure it would have been extremely Pet Shop Boys pop.
What is the meaning of Noi Kabat and where does it come from?
Dee: Noi Kabat means nothing and everything at once. For me anyone can make their own judgements. It is interesting going on tour and asking each country how they relate to it, what words it is similar to in their own dialect, how they pronounce it etc.
I read you drew part of your inspiration from 70′s science fiction. Can you tell us about the authors and the works from this period that influenced you?
Jonas: I think the Science Fiction writing is something that is a particular interest of Dee. Although obviously I do enjoy similar literal genres which may go to feed the stylistic choices of the band, the atmosphere and feel. I've been influenced by a lot of Theosophical writing, by Rudolf Steiner, Ospensky, Gurdjieff. Also French literature from the 19th century, people like JK Huysmans, Théophile Gautier, Comte de Lautréamont and his Les Chants de Maldoror. So more phantasmagorical, magical than science fiction proper perhaps.
Dee: That's interesting, I didn't know you liked Maldoror. Well, I worked in bookshops for many years and my interest and specialties were always golden age of science fiction and slightly obscure gothic, decadent classic literature. I'm a big supporter of Dedalus Publishing for re-printing a lot of material that had become print on demand only in the UK. Right now I've just finished an old Penguin of Fred Hoyle's The Black Cloud and I'm now on John Brunner's The Stone That Never Came Down.
I think there is a certain element of escapism in both types of literature that I am fond of. The way it translates in lyrical form or even musical form is a sense of impending collapse always bubbling at the surface, the singer is not the saviour though a la Ziggy Stardust, more the fore warner of doom, minor chords a semi tone apart. offering no escape for humanity, just the personal escape from the reality in which we live. Everything should feel slightly confining and yet very distant with our music I feel. A claustrophobic horizon perhaps.
After a first self-released cassette in 2012, a CDr split with Soft Riot on 0.5 and your latest single on aufnahme + wiedergabe last year, you seem to follow a DIY approach. Is it something important for you?
Jonas: We are very pleased with the way Make Room has been presented as our first vinyl release and also very happy that Philip Strobel at [aufnahme + wiedergabe] had made this commitment to the band. Obviously the recording and production has been self initiated yes.
Dee: I'm all for doing things in this DIY way. it's the way I have always done things from fanzines to clubs. And it is so accessible now to record well. I think the only difference that we have is that we have a live drummer where as most bands on the scene are a singer and synth player.
Jonas: We want to do things our way and work with people we respect and have a shared goal. It never feels difficult to write or work on new music. We're just constrained by time, geography and money of course. When we are able to take time to rehearse and make music it comes very naturally.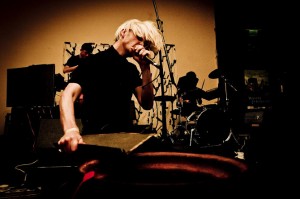 Would you sign with a major label if you ever get the opportunity?

Jonas: It would be great to share the burden of financing shows, tours, recordings etc… through a label that has more resources for these things. It would free us up to concentrate on the music. It has to be the right people. Investment is good, but not at the cost of our freedom within that investment / commitment. I admire bands that have retained integrity throughout their career despite being tempted by commercial forces. 'Bonne renommée vaut mieux que ceinture dorée'. It's all about integrity no matter how you achieve it.
Dee: I think signing for a major has it's drawbacks for sure. I know a friend who signed for Fiction, so fame hungry and in that deal had all of their writing presence taken away from them. Ghost writers were brought in for them. Stupid deal to sign obviously. Labels like Mute or Rough Trade I think friends of ours have enjoyed and those would be the ultimate goal for me.
Are any of you also involved in other side projects today?
Regards personal projects, I'm quite involved in my career as a practicing artist and designer/print maker which does feed into the band obviously. I do most of the visual design for the band; sleeve artwork etc… But it is all done on consensus anyway which makes it collaborative.
Musically, I have been dabbling with making my own recordings. I recently bought myself an Arturia minilab midi controller which has a huge audio canvas, and is very practical, and a fretless bass. And yes I have been working on tracks. I see them feeding into what we're doing with Noi Kabat anyway rather than anything separate.
What are your plans with Noi Kabat for this year? Can we expect a full-length release soon?
Jonas: I think another 7'' release with some of the new material we've been working on and which will feature in the forthcoming live shows. And an LP/EP soon…that would be the obvious goal really. We have the material, it's just committing some time to recording and producing it. We have a series of live shows spread over the year, so I'm really looking forward to that.
Dee: We have some nice shows booked already, in Entremuralhas in Portugal and a few others I can't announce yet, but we want to be touring and doing some short weekends now that we can travel easier.
What is already planned for touring?
Jonas: Tour wise, as I touched on previously, our shows are kind of spread throughout the year rather than like before where we had a full programme of dates over 3 weeks or whatever. We play 3 shows in Brussels, Romance Moderne at Cafe Central, Paris, Disko Kaos at Le Klub and Rennes on the 20th Feburary, 21st and 22nd respectively. This is down to the fine efforts and organisation of Mateo at La Forme Lente. So special thanks to him. I enjoy playing anywhere, the people are always great and the hospitality amazing, everyone is so kind, but I'd really love to play in Japan, if there's anyone out there who wants to bring us over, do get in touch, we would love to…
Dee: Agreed. Japan for sure I would love… Moscow, some South American countries I've heard are amazing, North America just for the experience and one night in Vancouver with Soft Riot would be a storm. We haven't been outside of Europe yet but I'm looking forward to visiting a lot of it this year, hopefully Barcelona and Madrid, Italy also, Athens I'd like to. Sweden…