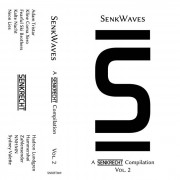 Nearly one year after our successful first compilation cassette, here is the second part. 10 bands from 7 countries, from Europe and America. Like in the case of the first edition, we collected songs that were previously unreleased or released online/digital only, now it's the first time in physical format.
This time the selection is more on the electronic side of dark alternative underground music, some of the best acts from the international minimal synth / darkwave / coldwave / wave body music community.
We have previously unreleased songs from the Dutch Adam Tristar, the French Hammershøi, the Croatian Neon Lies and the Hungarian Fearful Ski Brothers and Hadron Lundgren, as well as previously online only tracks by the French Sydney Valette, the German NNHMN, the Greek Kalte Nacht, the American Kline Coma Xero and the Dutch Zahlensender. 40 minutes of electronic wave pleasures.