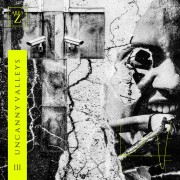 "Uncanny Valleys" compilation series is related to the theory introduced by japanese robotitian Mori Masahiro back in 1970, referring to the paradoxical perception of the existing similarities between robots and human beings.
This third opus focuses on Modern sonics, through a variety of genres and interpretations of these aesthetics. While the volume opens with a aerial and breaked track, it unfolds with ritual and 'techno' blending, before stepping into deconstructed territories with heavy vocal and digital manipulations. Finally, the final contributions open up sharply designed sounds and noisy atmospheres, which maintain the link within the compilation series.
Taking a look at music that is influenced by a genre – Industrial-, created in the times where the concept of Uncanny Valleys was created, helps us to grasp the links between the theory and art, both inspired by the development of technologies and its influences on both personal and societal aspects.