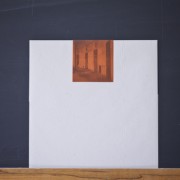 Vincent E.F. aka Bossa Luce is a musician from Turin who is already author of two self-produced tapes (Douce Torture; Aut-Aut) and of a split tape with Kolmas Oli Thoralf (Relazioni Asintotiche). His sound, which seems to arise from the early 80′s electro-industrial scene, has generated interest and curiosity towards his solo project, that, although young, can be placed beside some of the old names of the Italian underground scene.
Cicli Siderali Verso l'Annientamento, with the massive use of analogic synths, samplings, distorted voices and obsessive rhythms, strongly evokes obscure and hypnotic atmospheres, and reminds as well of the classics of the experimental music, such as Throbbing Gristle, The Residents, Factrix and Suicide.
The album is the first vinyl release of both Bossa Luce and Direct Cut. The songs Mrs. Mestizia, A.D.C.G and Caligola, already included in the tape Aut-Aut , are proposed again in a new version.