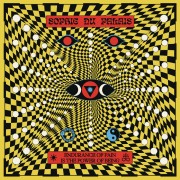 One of the bright talent emerging from the current Netherlands' electronic underground scene is the German and Amsterdam-based, 'fetish-inclined', vocalist and performer Sophie du Palais ((Pinkman, Dekmantel Recordings)) also known as "Vrouwe Fataal". She presents debut solo LP 'Endurance of Pain is the Power of Being'.
Sinister industrial wave music exploring themes of lust, hedonism, technological obsession & millennial alienation.
Across six tracks, Du Palais unravels a potent signature, driven by fierce, imperious Anglo-Germanic vocals and eclectic, dissonant sounds. Connecting techno, EBM, acid and electro with vestiges of dub and experimental electronics, on 'Endurance of Pain…' Du Palais conjures an abrasive, intoxicating depiction of lust, hedonism, technological obsession and millennial alienation.