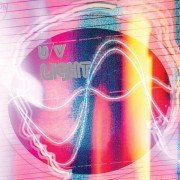 Medical Records is very pleased to present the debut album by U/V Light. U/V Light sounds more than a bit like Cloudland Canyon at times. This is because it is the first "solo," effort from Kip Uhlhorn of CC. Kip played, sang on, engineered, mixed, and collaborated with Gabby Weiss on this new recording. Eschewing standard German comparisons that CC usually receives, U/V LIGHT often sounds like either early electro or dance-pop but without the typical blueprint so commonly replicated these days. Kip's rockist tendencies make this recording more interesting and fresher than those usual reference points. However, after Gabby's vocals kick in, some of the band's influences can be discerned such as Desire, or Uffie fuzed with Sylvester, Bobby O, Jonzun Crew, Space "Magic Fly", etc. One could also draw some comparisons to Primal Scream's "Screamadelica", Seefeel, or Craig Leon at times. Despite hints at motorik tempos and/or beats., U/V Light is more of a pop affair. It is also not a simple continuation of Cloudland Canyon. Dance-pop seems the clearest reference point here, but Cenotaph does not have a standard dance beat feel.
Recorded quickly, the record has a consistent sonic approach that makes individual tracks sound like a suite of songs. God no, it is not a rock opera, but it has a singular sonic identity which makes it differ from previous Cloudland outings. Enough comparisons already, U/V Light's Cenotaph mostly equates to a Kip Uhlhorn solo recording. Influences are felt, but they don't dominate here. Sometimes a hybrid like this one is not easily categorized. If you like Cloudland Canyon then you will most likely enjoy Cenotaph. Or even if you do not prefer them (or have never even heard of them for that matter), this recording stands on its own. Six propulsive tracks ebb and flow with a continuous feel that takes the listener down a hypnotic wormhole.
This album was recorded using impressive arsenal of vintage analog synths as well as modern modular equipment. For fans of aforementioned influences as well as others (Grosskopf, Schultze, Slowdive) and especially those who enjoyed the most recent of the Cloudland Canyon 12" series. Mastered by Martin Bowes at the Cage Studios, UK. Presented on high-quality 180gram heavyweight colored vinyl.