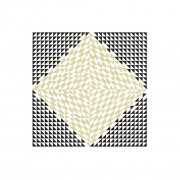 A kind of utopia. Just like the one found hidden away between the lines and pages of a few books, a few records that were born around the late sixties, early seventies. Those that spring in mind are by Terry Riley, Bridget Riley, Daniel Caux, Ariel Kalma. That sense of utopia which permeated their works is the one that was also found in the ideas and designs of the Bauhaus movement. Straight lines that, through a strange correspondance, are a reminder of the strong sound lines made by analog synthesizers. Those played by Model Alpha, aka Jonathan Fitoussi & Julie Freyri. Synth names full of wonders, like a sesame password to an unknown hidden world : Sequential Circuits Pro-One or Ems Synthi AKS, Philicorda or Ondioline, Roland TR-606, TR-707… Model Alpha makes them all vibrate, hiss, swirl, using them as they should (very clear sequences, straightforward percussions) but also as they shouldn't.
Synth and drumboxes heard on this record act as if they were taking you on a psychedelic drift, making you feel that they are almost playing themselves, creating their own melodies out of their used circuitry. The great Anni Albers design used for the sleeve is another way of percceiving the duo's electronic fluctuations : as straight hard lines that by sheer power of design and assemblage create illusions, make optic and audio nerves flutter away gently. Sound op art, in a subliminal way. Sometimes, Kraftwerk overshadows the whole music and one can only feel that the young French duo shares with their German model that same sense of making electronic music as modern ragas, nurtured by urban sounds and decays as well as an Indian sense of timing. Something for eternity, that goes on as long as electricity will be available.
As with the best techno, the best minimalist records, the best krautrock ventures, this first Model Alpha LP hints at a weird sense of time, not totally of the past, not totally of the future, not at all of the present. Something in between, a time travel machine that can take you on a random journey. Listening to those tracks is a bit like making time's flow stop. Right now.