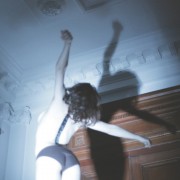 Going further into techno territory, Orphan Swords come back with a three tracks EP called "License To Desire" on Paris-Based Desire Records. Following the "Risk In The New Age" EP (2014), this new hypnotic release is probably their most powerful so far, concentrating EBM, minimal techno gristle and industrial electronics.
This EP clearly relates to previous efforts such as "Caim" that has been described by XLR8R as "The grinding sounds and whirling blasts of white noise position the track directly in the realm of acts like Sandwell District and Richie Hawtin's digressive and hypnotizing Plastikman moniker." Make sure to check out the massive epic of 'Asmoday' and the textural sophistication of 'Hooker'.
ORPHAN SWORDS is a Brussels-based duo previously described as "Oppressive industrial techno/drone pressure", "industrial-slanted techno" or "new school industrial" by Boomkat, XLR8R and The Quietus, They have played supports for Vatican Shadow, The Body, Black Rain, Kyoka etc.and more. After releases on Idiosyncratics, an EP called "Risk in a New Age" was released on Desire Records in june 2014, it features a collaboration with NYC cult band Ike Yard. "Stunners, the lot of them!" said JUNO about that release. Following this, upon request of Desire, they made an official rework of Ike Yard's NCR/Cherrish8.
« Factory Floor meets the Fuck Buttons. Tough stuff. »