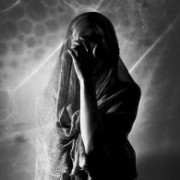 In the spring of 2015, upon an invitation by the Italian record label 'Rustblade', THE DEVIL AND THE UNIVERSE participated in a remix project as orchestrated by the legendary Italian composer Claudio Simonetti (of the renowned band 'Goblin'). This project has harvested a longer-term co-operation and so now, The Devil And The Universe is proud to present its latest and third album "BENEDICERE" as released by the Italian label Rustblade. The ever-evolving and design-oriented (and also Viennese) The Devil And The Universe project has a toolbox filled with musical and imagery equipment as provided by all things occult and religious iconography. These influences are arranged in a modern and original way, the new interpretation a pre-conception-free reflection of musical genres including Ritual Ambient, New and Minimal Wave. Director and film-score composer John Carpenter (Halloween) describes their vivid music: "I really like it. It's original and evocative."
The protagonists of The Devil And The Universe, Ashley Dayour, Stefan Elsbacher and David Pfister, call their music "Goat-Wave". Reminiscent of the pagan icon, the goat-headed Baphomet, the medieval and mystical figure has served as the band's avatar since the release of its first album. The goat-head is also occasionally worn by members of the band during live performances so as to break free of clichés and appear gender-neutral.
In the court of content, Christian mysticism (especially the mysteries surrounding the Virgin Mary) plays a decisive role on this, the third long-play offering of The Devil And The Universe. To capture the essence of the musical content, the band travelled to the most visited pilgrimage site in the world- Lourdes, France, as well as to the Spanish Santa Maria de Montserrat Abbey and the Vatican in Rome. With their previous Albums :IMPRINT DAATH: (2013), HAUNTED SUMMER (2014), the focus was psychedelic music steeped in a magical and spiritual aesthetic… now The Devil And The Universe are passionately immersed with a sincere affinity in the world of Catholic-Christian thought.
Listen here and order here.