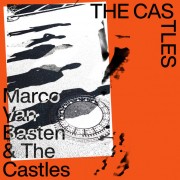 Marco Van Basten met the revolving cast of musicians known as The Castles in Berlin in 2022, and together they set his music afloat across an entirely new ocean. On their own, The Castles have been pursuing a diverse range of music and dramas in the city for years, and Marco—nearly named for the Dutch footballer who scored a famous goal in the week of his birth—has been making music in Dublin and Berlin for a decade.
Now, what started as a playful handful of demos has transformed into the debut 3-track release The Castles on the Italian label She Lost Kontrol. Marco Van Basten and The Castles pair ethereal, evocative vocals with haunting, heavy synth music that reverberates in the mind long after the final notes dissipate to dust.
Performed live, the music conveys an additional intensity with the musicianship of the performers given room to breathe. However, this intensity means the group must be selective with their performances, with the release party for The Castles taking place on October 20th at the ever-intimate Kantine am Berghain.