From Mannequin Records: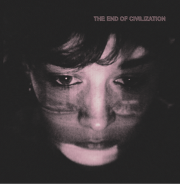 Mannequin has the dual and parallel aim to unearth hidden or unpublished gems, running along a road that starts from the period of reference for this kind of music (late 70s – mid 80s) and comes to nowdays, with a vision deeply influence by Factory Records / 4AD labels.
Catching the same spirit of such great labels, we asked to the Italian synth wave princess Mushy to create a compilation starting from a tabula rasa. The mission was hard. Following her tastes and heart, she had to select a dozen of new bands from all over the world with unreleased and unique for this project tracks, picking up the title and realizing the graphic design and artwork. The full process of "The End Of Civilization" took almost 1 year but the result was touching us deep into our soul.
Mushy began her career crafting noise bursts and aggressive oblique instrumentals before, in her newest form, blooming into a beautiful, epic and heart-heavy icy synth sound, having both "Faded Heart" (2011) and "Breathless" (2012) as album of the week at Rough Trade. "The End Of Civilization" perfectly represents her double sided synth-wave / kraut-psychedelic soul. Every track she selected for us is an absolute highlight, moving from the analog minimal / cold wave sounds of Police Des Moeurs, ASSS, The Circa Tapes, TEEEL and Rosemary to the tempestuous post punk and psychedelia of Deathday, The Murder Act, Phosphor and The Strange Forces, ending with spectral cold folk of Tablets and The Long Wives.