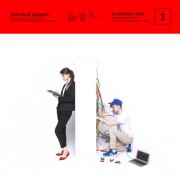 One of the brightest interstellar events in history was SUPERNOVA 1006. This is also the namesake of the Russian electronic music duo of Andrey Yukhovich (singer/songwriter/guitar) Elizabeth Dolgikh (drums/synthesizers), who are about to release their latest LP Technical Support.
The record, a worthy successor to SN1006's previous outing Blackout, evolving into from Darkwave LP, into something more akin to what the crew on the BBC 4 series Skins would listen to, while maintaining a broad appeal ranging, catering to the aural tastes of Technoheads, Post-Punkers, and Industrial/EBM kids.
This, however, is a political record, exploring the looming fear of Vladimir Putin signing into law the "sovereign internet" bill, an Orwellian piece of legislation that would give the Russian government control over the internet in ways that would rival that of China's.
Of this theme for Technical Support, Andrey, and Elizabeth explain: "The main idea of the album was to describe the boundaries of ideas we are driven by the information field. Now any information has its limits and an acceptable qualification. Maybe you've heard that there's no freedom of speech in Russia. At the end of 2019 the country will begin to "separate" from the global Internet with all the consequences. One big Russian firewall will "filter" and "prohibit". Technical support – those who build this firewall. These are the ones who will limit the development of ideas and bury the unborn ones." [post-punk.com]