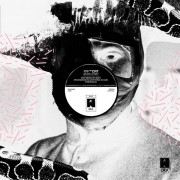 Atlanta underground producer MPKJR's CRT, CopyrightRegisteredTrademark, returns to DKA with 6 new tracks of torn speaker, 88' Accord tape deck, body jack 2 step, metallic dance smash funk in the form of State X-ray. Dead pan hooks peek through the blown-out bass as haunted leads melt their way through the rhythms pressing for a surrender to form.
The record vibes like the kids from the "Over the Shoulder" (Ministry) video growing up together and starting a band. The angular tones of the tracks drawing from nostalgic projects like Nervous Gender, Factrix and Severed Heads to the more recent sounds of Boris Barksdale, Volition Immanent and Maenad Veyl. Various field recordings, VHS compressed audio, modular synths and hardware sequencers create this release's palette. Embrace the new dance sound from the sweat soaked floors of Atlanta. Feel the smash and lose yourself in the fog while CRT guides you on a tour of Atlanta's underground past and present.
Construction through accident. Heat by motion. Awareness through empathy. Life by wire.