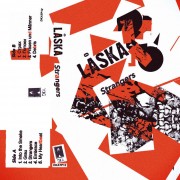 DKA is proud to add Låska to their ever-growing roster. Låska are Oksana and Dima Ivashinin, a pair of Russian musicians who recently relocated to Berlin. Låska (in Russian translation "Ласка" stands for "caress", meanwhile in Swedish, where the word originated this word means a "black ink stain").
Strangers is the second release from Låska following a ST cassette on French label Distag. Låska is inspired by the synth-pop and cold-wave scenes of the 80's, citing bands like Imperia, Beta Evers, Depeche Mode, Cabaret Voltaire, Linear Movement, and Grauzone as primary influences. Oksana and Dima found their move to Berlin to have a huge impact on the themes on Strangers. Essentially an album exploring loneliness in a new scene, these songs echo the sentiments of the classic David Bowie instrumental "A New Career in a New Town" about his adventures in Berlin. Låska's songs induce feelings as disparate as being lost in a vast industrial landscape and then at night being just another body on the dance floor of a Berlin klubnacht.
This is the soundtrack to finding yourself as you vainly seek a human connection amongst the hedonistic backdrop of the crowded dance floor. Inspired by Berlin's current and past music scenes and the chilly mood induced by its landscape of brutalist architecture, the music is cold and minimal but full of beauty. Oksana and Dima sing lyrics in multiple languages, exploring self-delusion, an uncertain future, a desire for understanding, and the need for love. Like Yaz or Deux the music has strong pop elements and could have sound-tracked the discotheques of Europe in the 80s.
Highly recommended music for welcoming in the dusk, you need to add Låska's Strangers to your collection.