DKA Records: Newboy – Self-titled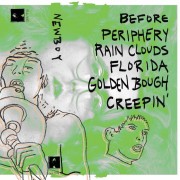 DKA is proud to present to you the second release from Newboy! Borrowing inspiration from Samuel Delaney's Dhalgren, Texan Acidheads, Art-Damaged Synth Punk, and Experimental Industrial Cassette Innovators like Portion Control, Newboy delivers us a unique, sample strewn EP. While Newboy's debut, 2019's Funky Bullshit, was a combination of self-imposed limitation and loose experimentation, this sophomore release feels more focused. Not as hung up on the bullshit, these recordings have a more forward and funky appeal.
Often seen peering over his glasses, Newboy aka Greg Vand, can be recognized as a member of DKA alumni Din and High-Functioning Flesh. Needless to say we are fans and excited to bring this EP to both digital and limited cassette formats!