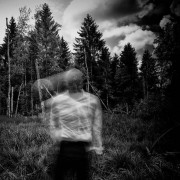 Normotone is the solo project of Bruno Laborde. Over the past 20 years, Bruno has formed part of Axonal Warfare (1994-1997) and Neon Cage Experiment (2003-2006), he worked with Architect on "Consume Adapt Create" as well as producing remixes for such artists as Black Egg, Polygon, HIV+, Ex_Tension, and signed on Tympanik Audio for his first solo album. A deeply personal new album of Normotone's sounds like a mixture of Ben Frost, Coil, Autechre, Death In June, Einsturzende Neubauten or Mondkopf.
Normotone now joins the Unknown Pleasures Records family to present his second album 'Hiraeth'. Each track featured on this album has its own story, while remaining an integral part of a cohesive album. Under the predominantly raw layers of cold electronica, apocalyptic folk, rhythmic noise, heavy glitchy rhythms and contemporary dark ambient music with a sonic edge. A collaborative effort among well-renowned artists including Black Egg, Sonic Area, Corina Nenuphar and Thomas 'Lysis' Brunaux.
Edition of 300 CD's.