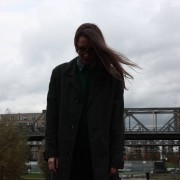 Leere is an female wave solo project. Emptiness, loneliness and nostalgia of the postmodernism are represented in her music through the sounds of original 80s synth and drum machine, the integration of field recordings and industrial elements.
She calls her music style violent romance, balancing between tenderness and anger, expressing love through pain.
Daria Leere is a former member of dark-wave duo Monowelt, who's haunted atmosphere stole hearts to many music lovers.