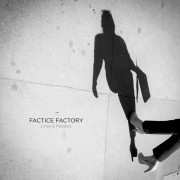 This third album is to be seen as a natural evolution of the bands previous achievements, a certain form of continuity of the sound and particular athmosphere they have managed to establish and set, creating their own musical identity. The melancholy and gloominess of the first two albums is still present but has evolved, becoming rougher, sharper, with a form of urgence, like a summer storm approaching from the far outskirts of the city to rush down on someone's head…
As the band was busy working on live performances the new songs inevitably inherited from this live approach of playing and singing, the aim became to be able to perform new materials during concerts and this can clearly be heard throughout the album's tracks. On a musical side the band experienced with new pedals and a more upfronted bass playing. There is clearly a deeper focus to be heard on the use of guitars and bass guitars in this new release. The songs are still very existential and influenced by the eighties and the typical Post-Punk touch even if some songs may sound a bit more rock too sometimes… The composition of each track still emerged in a very natural and spontaneous way, mixing and confronting either French, German or English to the feeling of each track's own identity and musical soundscape.
You can clearly identify two sides, two lines or parallels in this new opus, there is an electronic and more hypnotic side there with the very Neue Deutsche Welle. alike "Leuchtturm", the minimal film noir tribute "Audran", the very eighties sounding "Sway" or the harsh industrial tainted "Extinguisher". The other so called line is to be heard in tracks such as the desperate and goose bumping "Defeat", the somehow oriental sounding "Hatch End" or the melancholic end ballad "The Weeping Willow"… These two parallel lines finally merge into one single and united sound pattern, a delight that will surely find its place in the ears of many dark music addicts.