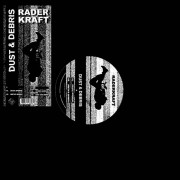 Somewhere between minimal synth, electro and wave is the irresistible sound of Raderkraft, aka musician /producer Willem Stinissen from Amsterdam.
As cold as it is catchy and hypnotic,armed with pulsating analog synths, staccato drum computer beats and sampled vocals, Raderkraft takes you into a dystopian past, present and future on his third 4-track EP called "Dust & Debris" by treating global world problems such as: the devastating impact of drug addictions; the futureexistence of our planet due to climate change; the global widespread destruction by nuclear war; and the fear for terrorist attacks.
The title track "Dust and Debris" describes the 9/11 catastrophe and contains a chronological frightening news report from several media sources telling us what happened that day exactly 20 years ago. With this EBM style track Raderkraft perfectly catches the incomprehension and fear that shocked the world that day.