Wave Tension Records: We Are Electric: Gary Numan Revisited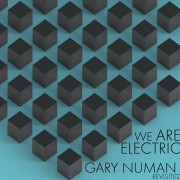 The electronic pioneer and founding father of synthpop, Gary Numan, celebrates his 40th anniversary as recording artist. During these 40 years, Numan's impact made itself felt; his dark, paranoid vision, theatrically icy alien persona, and clinical, robotic sound were echoed strongly in the work of many goth rock, wave and industrial artists.
Twenty-one years after the "Random" tribute album on Beggar's Banquet, Wave Tension Records releases a Gary Numan tribute album by contemporary dark wave, gothic and dream pop artists. The release will be a limited edition of 250 copies on black vinyl.
The album opens with Agent Side Grinder's nostalgic analogue rendition of 'I'm An Agent', followed by Ash Code's fresh sounding fast paced post-punk/dark wave version of 'Down In The Park'. Shad Shadows turn 'Metal' into a heated witchy darkwave track. On the last track of Side A, Box & The Twins create dreamy soundscapes in their version of 'complex'. SUIR opens Side B with a hypnotic psychedelic slowed down art-punk version of 'Cars'. Synths Versus Me turns Numan's monster hit 'Are Friends Electric?' into a fresh synthpop & EBM take with Art of Noise-esque vocals. The album's closing track is a gothic rock rendition of 'My Name Is Ruin' by Swedish rockers Then Comes Silence which encourages you to sing along.