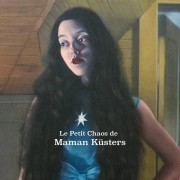 Third album of the brilliant French electronic duo Maman Küsters that many lucky people were able to see and appreciate during the last Ombra festival in Barcelona (in a formula that was without the singer Cyril Pansal)
9 new tracks and 5 exceptional remixes made by figures of the international music scene such as GARETH JONES (famous producer of Depeche Mode, Tuxedomoon, Einstürzende Neubauten, Wire, Palais Schaumburg, Diamanda Galás or Crime & The City Solution), MARC CARO (experimental musician, director, screenwriter or Artistic Director of the "Le Bunker de la dernière rafale", "Delicatessen", "La cite des enfants perdus", "Alien – the Resurrection", "Enter the Void"…), the Belgian techno pioneer INSIDER, aka Kris Vanderheyden, as well than François Joncour and spanish noise producer HIV+.
Somewhere between DAF and Dadaism, surreal and powerful lyrics, sounds as much influenced by the early Nitzer Ebb or Front 242 but with a sweet touch of luminous Kraftwerk. A unique sound and voice!