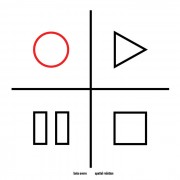 Peripheral Minimal is proud to announce the imminent release of, 'Beta Evers / Spatial Relation', a six-track 12" E.P., that also features, Heinrich Mueller of Dopplereffekt. The six tracks contain the coldest of minimal synth and technoid darkness, underpinned by a melancholic sentiment. This is the third release by Spatial Relation on Peripheral Minimal, and the first by Beta Evers.
Brigitte Enzler aka Beta Evers, grew up with the New Wave and experimental electronics scenes in the late 70′s and early 80′s. In her teenage years she founded a girl-band and started her first record label at the age of 16, to independently release and distribute the music of her project. During the early 90′s Brigitte started to arrange gatherings / parties, (electronic music) for local underground clubs in her home city of Augsburg, Germany.
In the year 2000 she founded the electro collective Kommando 6, and in 2001 she decided to run a label again, under the same name, Kommando 6. Finally, in the same year, she started to compose and produce her own tracks independently. Besides her solo-project, Brigitte collaborates in a side-project with Dystronic called, Black Spider Clan, which began life in 2002. Furthermore she is involved in, Flying Bodies and Radikale Analog Fraktion. In 2006 she closed the Kommando 6 label after it had released 20 records. More recently she started 2 new labels called Bodyvolt and Venus Noir.
Married New York based couple, Lissette and Jacob Schoenly founded Spatial Relation several years ago, and have sporadically released classic technoid synthwave / minimal wave, akin to fellow US act, 'Adult' who are also a major influence. Their first full length LP has been critically acclaimed, and the three tracks herein continue their twisted electro sounds.