Peripheral Minimal: Spatial Relation – Beyond The Zero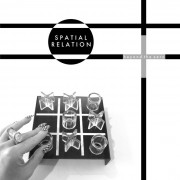 Peripheral Minimal is proud to present Beyond the Zero, the highly anticipated debut album by Brooklyn-based duo Spatial Relation.
Through word of mouth, the band has built up an international fan base in the past few years. Interest has come largely from appearances on seminal European compilations such as the TSM series produced by The Scrap Mag (Spain) and Until the Sun Grows Cold from Vocoder Tapes (England). Spatial Relation's cassette EP Thoughtcrime also was released last year by Infravox Records (Peru), and this was preceded by a split seven-inch single with the artist Xiu on Peripheral Minimal in 2013.
The eight songs that make up Beyond the Zero were produced, recorded, and mixed in the band's home studio from 2012 to 2014. In addition to new titles such as the stand-out singles "Tacit Knowledge" and "Phantoms of the Future," the album includes the cult hit "Contour Lines," which helped launch Spatial Relation to public attention, and closes with the minimalist favorite "Mysteries of Chance." All tracks have been mastered with care by the famed Dutch producer and engineer Alden Tyrell.
Limited vinyl edition of 300.