Infravox Records: Spatial Relation – Thoughtcrime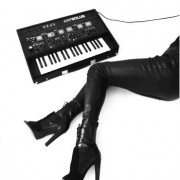 It's a pleasure to present to Lissette and Jacob Schoenly who is a duo. Their influence are minimal synth and electro 80´s.
This time, delight us with "Thoughtcrime" its a EP of completely melodies analogous who combined to the perfect harmony with voices Lissette´s.
Thoughtcrime EP is a tape with 5 clues it leaves a person longing for more.