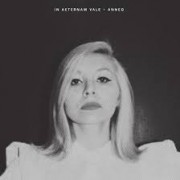 We're happy to announce a unique collaboration between one of our long time favorite artists, In Aeternam Vale and Anneq, a stunning young Madrid-based vocalist originally from Minsk, Belarus. In Aeternam Vale and Anneq met in 2011 and began to collaborate in 2015. In Aeternam Vale, originally from Lyon, has been making synthesizer based electronic music since the early 80s, when he began to self-release many of his recordings on cassette. As the years went on his cold and caustic synthpunk sound, often primitive and hypnotic evolved into rhythmic, throbbing music for the dance floor, his own unique style of techno.
On this record, In Aeternam Vale and Anneq come together to create two very different versions of the same track, one fit for the club and the other a more intimate version, for quiet listening at home. Je Ai Dissous, the opener, is a dark smoky track with a hypnotic, cyclical underlay reminiscent of early industrial music while the Page R Version of the same track trandscends the floor and becomes completely filmic. Anneq's seductive vocal is suspended in a beatless, cavernous void. Side B opens with Tendencia, a very classic catchy minimal wave style track, sung in Spanish. The V6 version of Tendencia again focuses on Anneq's voice set in a darker, slower more atmospheric melody. The four tracks culminate in an elegant and thoughtful collaboration from these two strong talents that complement one another so well.
The "Je Ai Dissous" EP is pressed on 160 gram deep purple "spilled" inside electric blue transparent vinyl, limited to 999 copies and housed in a gloss printed sleeve.