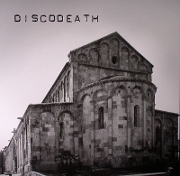 Brand new minimal-wave in a pure old-school style that sounds really fresh. Didscodeath come from Italy and remind us a mixture of the influential Italian electro bands from the 80′s, such as Neon, Pankow and Limbo. Very dirty in your ear but also very danceable. This LP saw the light thanks to the collaboration of Hertz-Schrittmacher & No Emb Blanc labels.
Green transparent vinyl limited to 300 copies.
Listen here and order here.