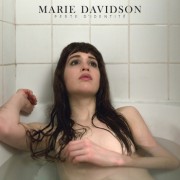 Perte d'identité, which translates to "loss of identity," is the debut LP by composer, singer and poet Marie Davidson, one of the finest artists rising from the electronic dark-synth scene in Montreal. Her voice is a stark half-spoken monotone which will tell you stories from which you can't escape unchanged. With this release, she refines her storytelling with suffocating tales that are both intimate and melancholic. Meanwhile, her miraculously human electronic rhythms are as frantic and hypnotic as an intense stare.
In her premier full length album, she invites you to take a look in the peephole, revealing a fascinating cinematic picture. What you will be shown are the parts of yourself which you're scared and ashamed of, but also the ones that reveal a haunting and glamorous sensuality. Not only will she spin you a tale, but her music will immerse your soul in images of sweet anxiety. "This album is about romance and a quest for meaning."
Limited to 300 hand-numbered copies. 140gr black vinyl, 300gr deluxe cardboard sleeve with embossing and inside printing.