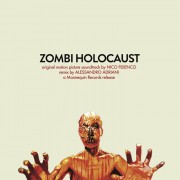 Mannequin Records is elated to present a selection of the killer "Zombi Holocaust" soundtrack by Nico Fidenco, remixed by Mannequin Records boss Alessandro Adriani on the B side.
'Zombi Holocaust' movie is another slice of Italian zombie craziness for the late 70's/early 1980s. The film, released in 1979, was directed by Marino Girolami, and starred Italian zombie favorite Ian McCulloch.
In contrast to the sleazy and gory action on the screen, the soundtrack of the maestro Nico Fidenco is a thing of beauty and great depth, with captivating musicianship on display. The soundtrack is a rich blend of electronic/synthesizer tracks, experimental electronics, soaring acoustic and orchestral numbers with tinges of Spaghetti Western soundtracks, frenetic drumming coupled with woodwind instruments, and chants and manipulated wordless vocals. This eclectic blend is skillfully woven together to create a soundtrack that is unique, richly textured, and one that can stand side by side with the best works of other great Italian soundtrack composers.
The selection of the tracks was following a particular path, where dark synthesizers, drones and slow burning electronic beats have a voice in. Alessandro Adriani used to play often tracks out of the soundtrack in his dj sets, as it manages to sound totally modern, so it was totally natural for him to rework "The Magic Is In Progress", now transformed in a whole B-side 10 minutes dancefloor acid/ebm ride. TIP!