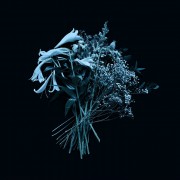 Behind shuttered windows and closed doors, our distant memories are slowly drifting into the void of reality. Thrown upside down in the air, we are floating between rational thinking and chaos. There is no present, past, or future, just this elusive feeling of eternal loneliness. The flowers bloom and fade away an infinite number of times, across infinite time and space. The end is the beginning and the beginning is the end. Our attempts to break the circle bring us to the place where it all started. Forever lost in the maze of life, unseen and unknown, this very moment is already forgotten.
"The End Is the Beginning" is the debut album of post-punk/gothic rock project Mirror of Haze from Oslo, Norway. Recorded in isolation during the pandemic months of 2020, it captures the mood of this strange and unprecedented time of modern history. From the first song Mirror of Haze sets up both anxious and ethereal atmosphere, filled with reverb-drenched dreamy guitars, driving bass lines, rhythmic drum machine beats, and commanding vocals. In the guitar driven sound of the record you can hear musical textures reminiscent of acts from previous decades such as The Chameleons and The Fields Of The Nephilim, and modern artists like Drab Majesty and Then Comes Silence.
Lyrically, the album builds on eternal philosophical questions of life and death in the dystopian post apocalyptic setting, taking inspiration from the striking imagery of "The Waste Land" by T.S. Eliot.