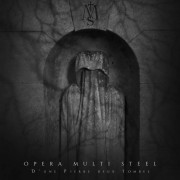 "D'une Pierre deux Tombes" is the twelfth Opera Multi Steel's studio album. It includes 8 tracks in its vinyl version and 12 tracks as cd format. For this last opus, the band turns back as a trio, in the original line-up of its beginnings, namely Patrick L. Robin, Franck Lopez and Catherine Marie. In 2018, Catherine, Patrick and Franck lost their respective mothers. This album was therefore partly conceived as a posthumous tribute to two dear ones, hence its title in French which takes the form of both a pun and a macabre observation.
All the tracks, even if they still contain what makes the sound and the particular style of the band are imbued with a sadness and a nostalgia arguably more present. The theme of death and vanity is more powerful than ever (Cimeterre, L'Après-Mort…). Opéra Multi Steel develops in this album a bit darker music than usual. Melodies and vocal harmonies are always favored, supported on several tracks by Future Pop sounds of strings and electronic rhythms which reinforce the tragic mood of the concept (L'Annonce, La Nuit des Doutes, Intercession…).
The album, in its cd version, is punctuated after each track by the sound of the old cuckoo clock that remained alone on the walls of the empty house of Patrick and Franck's mother after her disappearance as the witness of a persistent presence. We can also hear the last phone vocal message from his mother to Patrick. This cathartic album, over the songs, takes the form of a sound testament aimed at exorcising fate and facilitating resilience.
The cover artwork, made by Brazilian designer Hernan Czauski with photos taken by the band's members in several ancient French cemeteries, features details of 19th century sculpted tombstones that evoke both the eternal Silence of the Grave, the Fidelity beyond Death and the inconsolable Sorrows.