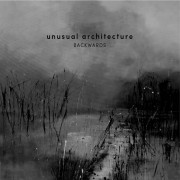 "Backwards" is the first studio album by Unusual Architecture, a duo born in Ferrara (Italy) in 2019, released by the Brazilian independent label Wave Records.
This album is the result of the collaboration between the two members of the Unusual Architecture project: Davide Carlotti, saxophonist, keyboardist and synth programmer, and Susanna Zaghi, singer and lyrics writer. Both were previously members of Intelligence Dept., one of the most prominent bands in the history of the Italian new wave.
The sounds of "Backwards" are characterized by pressing rhythms, hammering sequencers, but also by rarefied atmospheres with a dark character. All this is overlaid by Susanna's voice, always intense and rich in nuances, and Davide's sax and keyboards, which create the musical fabric that blends with the sounds of electronic drums and synthesizers.