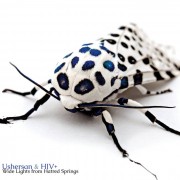 New version of CD album "Wide Lights from Hatred Springs" published in december 2012 on Signifier (Chicago/USA).
UPR is pleased to present the first collaborative project from prolific cold industrial / minimal synth artists Anthon 'Usher' Shield of french coldwave cult act NORMA LOY (and today BLACK EGG) and Pedro Peñas y Robles (from HIV+). Some of these songs have contributed to the birth of their synthwave franco spanish duo ADAN & ILSE in 2013.
"Wide Lights from Hatred Springs" features studio sessions inspired by Noise, Post Punk and New Wave pioneers such as Throbbing Gristle, Suicide, Cabaret Voltaire, SPK or Nitzer Ebb. The unpredictable pairing of Usher & Pedro utilize vintage equipment and techniques from the late 1970′s / early 80′s leading to a memorable and catchy sound that is as fresh as it is familiar. Haunting compositions feature electro industrial rhythms and old analogue synths. Lyrics sung by HIV+ with backing vocals by USHERsan and Vera give voice to the way in which emotional, spiritual, and social isolation encapsulate the madness of our time.
Featuring remixes from ABSOLUTE BODY CONTROL and MILLIMETRIC.