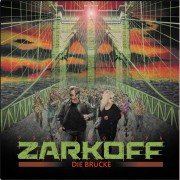 Ideally in transit between yesterday and today, between adolescence and maturity, between an arcadian dimension and a more actual reality made of mirrors and metal, here it is the sonic trip for these two singular characters, Zarkoff and Popsimonova, a taste of sci-fi retro comics, as the bridge of hyena plisskinn in Carpenter '1997 escape from ny' or the characters of the bridge of William Gibson, the master of cyberpunk american literature.
The minimal futurstic attitude is deformed, exagerated, distorted, in some case it becomes just a cold expressionism, violent sintetic colors as the sky of Munch, but the scream this time is purely electronic…
The bridge, this eternal symbol of passage, the union of opposite realities, in this case reflected itself in the music, with deep roots that lie in the past (for the analog instrumentation) and then leap into the future, materialized from essential and modernist musical structures. Each human being builds its own bridge, a piece at a time, and so it happens the magic of communication, it takes place. In Die Brucke it happens in the ideal musical dialog between this two singular characters, with their composite way to write songs.
In addition, for the first 100 copies of 12′, a 7 inch with two songs taken from 12′, Wal2Wall and the instrumental Azzurre, remixed and rearranged by L.A.S.'s Crime, another electronic duo borned in '80s, as a subtle line between past and future. A special edition that will amaze you with its orange vinyl and shining package.
Marbled orange double vinyl, 12"-7",155 grams for the 12" version.