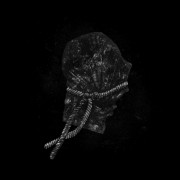 Arcane and macabre outset for Autumns' side "A Life Has No Glory"; "Be Desire"s vocal is indeed creepy solemn and sets the mood very vividly.
It continues with 2 with crushingly glacial heavy tunes that captures the Irish artist in constant flux. Ruthless but always occult-oriented; twilight tracks that confirm Autumns' great traits: eerie industrial visions, with heavily post-punk ascending. Signs his side with "Found It", frantic incantations erupted by a fierce and inexorable snare; and the composition becomes even epic.
Autumns' side, sets up a lugubrious environment, a boundless night that will not be long in assuming mystical connotations. A5, is the crowing glory, delivered by Exhausted Modern covering an injected electro remix of "Be Desire", such a broadening of the stylistic palette of the Prague's artist. It's a deep melodic twist which leaving the sceptre of the Todtentanz-danse ritual, destined to unite in a total, almost metaphysical oxymoron.