Touch Sensitive: Autumns – DSS Dubplate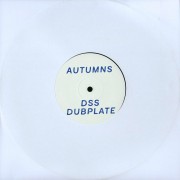 Hot on the heels of this year's 'Dyslexia Sound System' album, Touch Sensitive is thrilled to share a three-track companion piece from Autumns – 'DSS Dubplate'.
Autumns is the solo project of Derry's Christian Donaghey. With a relentless release rate that mirrors the energy and intensity of his live shows, Donaghey has submitted a selection of skewed star turns for the likes of iDEAL, Death & Leisure, and Opal Tapes since his debut on Regis' Downwards label in 2014.
Much like it's companion LP, 'DSS Dubplate' is heavily inspired by the On-U Sound label, the productions of Adrian Sherwood, and that cultural and musical sweet spot when the rockers met the post-punk crowd. Donaghey's whip-crack beats, heavily effected vocals, shredded no-wave guitar, and clarinet squalls are shaped and shifted further into the endless expanse by his dubwise techniques on the board. As always with Donaghey's productions – these rhythms grip tight and don't let loose until the needle is on the run-out groove.
Full-throttle! Autumns non-stop!