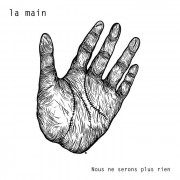 Through 12 tracks shifting from new wave to minimal synth and post punk, La Main whispers some dark love stories where desires remain unfulfilled. With his melodic laments and synthetic prophecies, La Main sounds like he's roaming in a place at the edge between our world and one of lost souls. With its heady melodies and a gift for writing, La Main tells us the story of theses souls that look for each other but never find themselves. We are warned: at the end, "we'll be nothing".
Translated into images through 12 brush and ink illustrations made by Céline Guichard, the demonic urges described by La Main come to life and invite us to enter this introspective dance of death. Each track has its own illustration which offers 12 weird but familiar creatures provided as a silk-screened limited edition.
Two years after his first LP, La Main is back to showcase these 12 rhythmically compelling, sharp written songs due on December 3 via Stellar Kinematics.