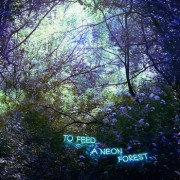 To Feed A Neon Forest is the project of English born, Finnish based musician, DJ and producer Alec Kyle Sibbald.
Starting out as both a musician in various punk and no-wave bands and a disco and Italo DJ, Alec was very active in the music and DJ-scene of Brighton England.
After moving to Helsinki Finland, Alec found himself in a new country without his close circle of musical friends and decided to start creating music on his own, manifesting his love of no-wave, post punk, minimal synth and Italo-disco into To Feed A Neon Forest.
The songs are romantically melancholy, telling stories of frustration, love, loss and indifference sung in a deep apathetic tone, musically accompanied by complex, minimal uptempo compositions all performed on various 80's synthesizers and drum machines.
Currently To Feed A Neon Forest is working on a live set with other musicians with the intention of playing as a band and bringing the energy and no-wave punk ethos of the music to the live performance.