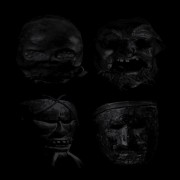 Peripheral Minimal is proud to present the début physical album by mysterious French act 'Mad Masks'
'Mad Masks' originate from the French Alps, and consist of members 'Zio Voodoo' and 'Dominique Stela'. The band started in 2013 to record music inspired by dark soundtracks.
Their sound is a mélange of slowly moving atmospheric heavily processed guitar and looping continuous drum-machine, with darkly Gothic overtones. Think of early recordings on cult UK label 4AD, combined with chilling post-punk dirges, and you'd be halfway there. 'Mad Masks', are a genre onto themselves perhaps, as direct categorisation would be near impossible. The accompanying videos to their tracks are from obscure or forgotten Horror films from the 1960s / 70s, occultism, religious fanaticism and fantastical mythical creatures feature heavily, betraying their influences. The album is sure to find itself becoming a cult classic and a must-have for anyone into unsettling and uneasy music.
The album is limited to 200 copies housed in a jewel-case and comes with two badges.