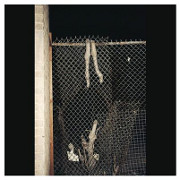 Cititrax is honored to introduce Bruta Non Calculant, a new project by Alaxis Andreas G, the mastermind behind Le Syndicat Electronique and numerous other analog electronic, experimental and esoteric industrial folk projects. Alaxis formed Bruta Non Calculant in 2006 along with his brother Victor-Yann (De Frontanel). Their debut album, World In A Tear, presents 10 tracks drenched in a dark european atmosphere complete with a sound fully formed and heroically executed. Themes of death, lust and unrequited love are all bound in this brown book-esque collection. The songs occupy their own space and communicate in their own language and as such almost seem to have the ability to alter time once the listener has succumbed to their discordant beauty.
An unsurprisingly impressive comeback, Bruta Non Calculant's debut album blends new wave elements with folkloric balladry impeccably, and approaches this with a modern sensibility. World In A Tear is an elegant collection of seductive songs.
Release date: February 11th, 2014. Vinyl pressed on white 160 gram housed in a matte full color printed sleeve limited to 999 copies.