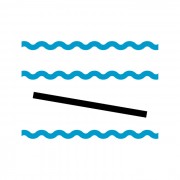 Active between 2009 – 2015, 1/2 (in recent years re-defined as "I/II"), concentrated on visuals and minimal electronic pop music.
In parallel to his own audio-visual activities (musically, also under the pseudonyms "Split Personalities", "The Fall Guy" and "Dissident" plus in the graphic design dept., as "Nieuw NDG"), he started an accompanying label – 0.5, releasing work by other artists as well. After a fertile period of five years during which he himself delivered a number of test recordings, singles, EPs and mini-albums (some of which also appeared on various international labels), 1/2 decided to call it a day in 2015, releasing his very last studio mini-album/EP "Earthquakes Usually Come Around At Night".
He now records under the name Iv/An.
Listen and order here. Also available on Totally Wired Records.