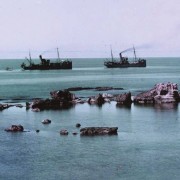 THIS IS THE BRIDGE graced 0.5's catalogue back in 2013 with the debut s/t mini-album of chilling instrumental music. as a debut, it fared pretty well as the label's most successful diy release that year.
Originally appearing as "The Bridge" with this "This is the Bridge" as the debut album's title, the extended name was later adopted for subsequent releases. And this is the bridge indeed – it's a crosslink of intent. Idealism complementing retro-futurism today tomorrow.
0.5 is happy to present a collection of 10 pieces, some that previously appeared in TITB's digital catalogue while others are completely new and exclusive, gathered together for this new physical release. A selection of up-tempo numbers reflecting a state between dream and nightmare, the thin line that encourages us to consider what tomorrow brings and perhaps change it.