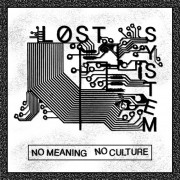 Grand Rapids post-punk group Lost System will be releasing their debut EP, through Kalamazoo-based imprint Chromatin Records, on November 17th. Formerly known as Black Monuments in the Grand Rapids underground music scene, they made a name for themselves after playing with bands like Sheer Mag, Lumpy and The Dumpers, and CCTV. After Black Monuments broke up, they formed Lost system with three of the four members and recruited a new bassist, Adam Niemara, who also creates all of the band art-work. The result is something different. A unique sound with a distinct message to be heard. This project invokes a dynamic and dark energy inspired by the many frustrations of the world we experience today. Lost System will be playing a release show alongside Protomartyr November 18th at The Pyramid Scheme in Grand Rapids, MI.
Lost System's recent single Future Shock is an intense piece showing the constant pressure of a collapsing economy. A reminder of what we are living in and the fear of what's to come. Repetitive to drive home the point of a bleak future. The song will be available for streaming at soundcloud.com/chromatin-records/future-shock
Lost System was formed in the latter half of 2015 and have been creating new material at a very quick pace since. They have found a more mature sound with a focus on songwriting rather than playing shows. Each member brings a unique presence to the band and a wide variety of influences including Factory Records style Post-punk, 80's Goth, New Wave, and Hardcore Punk. This is truly something unique that we are proud to release, for it is a representation of true artistic expression without compromise.