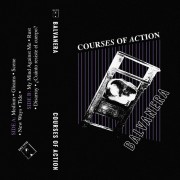 Courses of Action is the latest release from Balvanera, a duo based out of Buenos Aires, Argentina. Their first release on DKA after a series of Lps, Eps, splits, and remixes, Courses of Action sees the duo focusing on a stronger dance-floor ready EBM sound. The phrase "courses of action" is one that you usually hear from politicians or CEOs, comforting words to assure us that they will take the necessary measures without ever saying what they would actually do. We know that this is a phrase somehow devoid of meaning, completely empty, but we reappropriate this phrase, in times of turmoil, to think of our own actions and possibilities in these chaotic times.
"Courses of Action" has a futuristic vibe, with groovy and sensuous bass lines. "Courses of Action" fits perfectly on the DKA label blending the sounds and styles of artists like DIN, Celldöd, High-Functioning Flesh, and Boy Harsher. The cover art is inspired by a local artist, Liliana Maresca. In the 80's she used her body in action as a central expression to question the local political climate of the late 80s and early 90s, raising the bar to the spinozian question of what a body can do. The whole record, perhaps aligning to that EBM ethos, speaks of the body; the body ill, the body in action, the mind sabotaging the body, the body dancing.
The members of Balvanera cut their teeth in diy hardcore and punk scenes before exploring the sounds of EBM. Inspired by newer artists like Linea Aspera and Sixth June, Balvanera decided to fill a void for a dark electronic music sound in Buenos Aires. Despite the difficulty of purchasing new gear, they still managed to create a powerful form of full-on body music. They soon found themselves playing illegal shows and DJing parties for a diverse underground audience hungry for new sounds. Balvanera's live sets are a cathartic ritual for both the performer and audience. Recorded before the pandemic hit, the music on Courses of Action will make you long to get lost on a fogged-out dance floor.