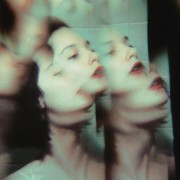 M!R!M is the solo project of Jack Milwaukee, italian multi-instrumentalist based in London since 2011. Inspired by early 80s synth pop, cold and dark wave, M!R!M has been releasing on labels as Fabrika and Manic Depression. Since his debut album, he's been touring and playing shows all around Europe building an important following and a significant name within the scene.
Still featuring Milwaukee at the helm along with selected collaborators as supplementation, The Visionary is a further evolution in M!R!M sound, which showcases how the musician's vision has evolved throughout the years. Holding firmly to the vibes that recall the most dreaming 80's, Jack Milwaukee this time blends together that typical FM synth timbre, which has always characterized the artist, with deeper and sumptuous sounds found within the notes of mellotron and sax; overcoming previous Lo-Fi approaches to undertake a solid, prominent and more mature path. Pulling from the 'pop' approach of mid 80′s synth-pop pioneers like New Order, The Wake, Tears For Fears to most iconic figures of the Italian 80's era, M!R!M dialed in on a clear understanding of its own specific sound, which has since evolved.
The Visionary is the ultimate unified vision of M!R!M's work, it's the sweetest transition of the most nostalgic daydream.