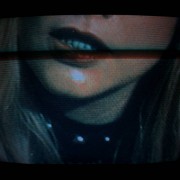 For the second round of the SYNTHICIDE split EP series, two projects merge together on a release that combine opposing perspectives on EBM music. Welcome Klack versus Inconscio Viola.
Side A boasts three tracks from the United States duo, Klack. Known for their aggressive and gritty productions (with a release on Berlin's Detriti Records), Matt Fanale and Eric Oehler offer up bombast basslines and danceable, new beat-tinged compositions. "New Buildings" sets the mood of the split EP with its pure EBM brilliance that retains an old school mentality set to a strict beat, while "Frequency," with its growling vocals and percussive elements, demand attention: it's music made for stomping. Finally, the first side closes out with "Bleach White Sky" that hones in on melancholy elements that contain sorrowful synths under bellowing vocals.
Side B features the collaborative project of Italian producers Francesco Baudazzi of Violet Poison/Diana Berti (Veleno Viola) and Andrea Riberti of Unconscious (Detriti, X-IMG) under the moniker Inconscio Viola. "Rabbit on Tuesday" offers an off-kilter, tumbling bassline that is addictive in its unforgiving onslaught. It's clear that the duo make a sensible pairing with their shared roots in vintage horror movies and nunsploitation film influences—this is especially emphasized with the final track, "The Exorcist III." With ghostly samples and a slithering bassline, the track snakes between the recognizable aesthetics of both producers.