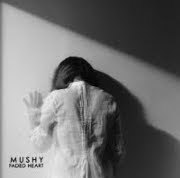 This white vinyl, limited to 300 copies, was released by Mannequin in February 2011. Mushy is a solo female project from Rome that has been around since 2003 and this seems to be the 3rd full length album.
I quickly got absorbed into Mushy's thick and heavy atmosphere. Each of the 10 titles is colored of rich and dark pad textures with slow rhythms, reverberant drones and a touching vocal raising up from a deep cave. From the beginning to the end, it is depressing, hypnotic, neurotic and fatalist: definitely something reaching me deep inside. This is the perfect record to listen alone while thinking about the old skeletons hiding in your closet.
The song No More also involved Newclear Waves who accompanied with a drum machine and synthesizer.
Faded Heart is one of my favorite track. Listen carefully with sensibility to the details: you'll notice divine rays of light cutting through Mushy's obscurity.