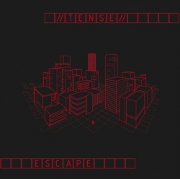 Even thought I only discovered //TENSE// last year with Sin Reality (Memory – 2010) that totally blew me away, this is already their 7th release since 2008.
What first came to my mind when discovering this Texas duo were the strong Front 242 and early Ministry influences. As I was really astonished by their work, I immediately pre-ordered this EP from Mannequin (limited to 500 copies) before it came out in April.
On the first listening, I got at a little confused as I was expecting the raw sound of Sin Reality, but I quickly grew to understand how they had evolved and I was not disappointed. To simply describe this sound evolution, the recording might be a little more polished with cleaner vocals–using different effects–and a cleaner sound in general. That said, the marginal madness and energy is still authentic while the whole record was made with some kind of futuristic esthetic.
The first song starts off with the sample of a man getting diagnosed by a psychiatrist saying: « So your official diagnostic is schizophrenic psychosis »–a common consequence of hard drug abuse–and the poor guy goes «No, it can't be ». This introduction is a good representation of the global theme with lyrics expressing a fear of society, paranoia, social isolation and subliminal suggestions of recreational drugs usage.
I especially enjoyed the Pulse Beat lyrics, treating of an evil side of today's internet connectivity. Nowadays, as we can see the masses heavily using social networks owned by private corporations without thinking any further about the inherent ethical issues, we can at least say these lyrics were not based on irrational fears after recently seeing social networks turning into public hubs of mutual surveillance, sadly reminding us of Orwell's fiction. As some already said regarding Phillip K. Dick masterwork: paranoia is a gift.
Unmanned Cars is perfectly ending the album with an ambient song using smooth soundscapes with terrific effects, leaving me dreaming of dystopic science fiction scenes…
This is an excellent release that should please many EBM fans as well as other electronic music lovers out there. I am surprise to see it is not sold out already!