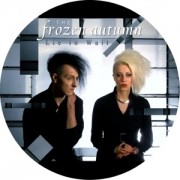 Calembour Records presents The Frozen Autumn´s new EP "LIE IN WAIT". Released as a 12″ 45rpm picture vinyl limited to just 500 hand-numbered copies, this maxi-single contains 3 completely unreleased tracks + a new remix of the reknown song "Sidereal Solitude", contained in their previous album "Chirality".
This release spans from extremely dynamic tracks, ready to become the next alternative dancefloor teasers, to more atmospherical songs, their common features being the extremely articulated electronic patterns and the everchanging sound layers. This EP, immediately recognizable as a pure The Frozen Autumn product as usual, marks a further evolution in their composing procedure, bridging the distance between "Chirality" and their new full-length album, on which they are already working.
A must-have release and a precious collector´s item you don´t want to miss!
Listen here and order here.