DKA Records: Autumns – Foyle Living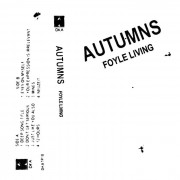 Autumns returns to DKA with a second cassette called "Foyle Living". Hot on the heels of the full length "Shortly after Nothing" released on Death and Leisure. This tape showcases the more experimental side of Autumns. Eight songs culled from recording and practice sessions that combine the aesthetics of early Cabaret Voltaire and Throbbing Gristle pulse with a dissonant energy.
Autumns draws from a negative almost nihilistic approach to music. The hard EBM and Techno he produces pummels the audience while filling the dance floor. Over the punchy kick drums and minimal basslines, Christian's voice flows through distortion and echo without restraint. To see Autumns, live is akin to witnessing an electronic equivalent to a Birthday Party show in the 80s. Like a young Nick Cave, Autumns end goal is a state in which the artist and audience gives into animal abandon.