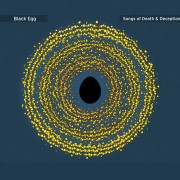 The new album of BLACK EGG called « Songs Of Death And Deception » (UPR 027). This release a very cold, warm an romantic folk with acoustic instruments in the vein of Nick Cave & The Bad Seeds, Frank Tovey, Wovenhand, Johnny Cash, Death In June, Leonard Cohen, Rome, Lou Reed, Spiritual Front or Michael Gira.
During the dark eighties in France Usher formed part of the cult cold wave band Norma Loy.
There are 16 amazing songs on this album, (+ 1 bonus version in digital) published in compact disc digipak strictly limited edition to 500, and you can also buy and download it in digital.
« Songs Of Death And Deception » is an another great way to learn more about this amazing songwriter here in France. You'll listening beautiful lyrics and vocals, melancholic songs and all this things what stands for good folk noir music.
Edition of 500 CD.